There are a million reasons to get an album as part of your wedding package. But each reason is specific to the person. For me, it is to have a constant reminder sitting in our home. A reminder to share with the children that I hope to have someday. Find your reason; it matters.
The truth is that clients who don't set out to create an album right after their wedding never come back to it. So if you're considering what it would feel like to hold an album of your wedding in your hands, don't wait.
Contact us today
Download the album swatches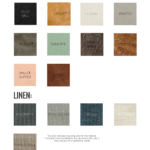 ---
If you haven't had the opportunity to check our our albums in person, take a minute and look through our photo gallery below. They're gorgeous.
8x8 Studio Album Credit
8×8″ Linen Cover
20 pages
Page style: thin
Simple cover
Professional Design
Three revisions
10x10 Studio Album Credit
10×10″ Linen Cover
24 pages
Page style: thin or thick
Cover text
White fabric slip cover
Professional Design
Three revisions
12x12 Studio Album Credit
12×12″ Linen or Leather Cover
30 pages
Page style: thin or thick
Cover text or Cameo window
White fabric slip cover
Professional Design
Three revisions
Legacy Album Credit
Our Legacy Albums are an entirely different line than our Studio albums. They feature premium handmade craftsmanship featuring emulsion prints mounted in traditional matted pages. They are the type of album that couples intend to hand down to future generations of a reminder of their love and the family that they come from.
10×14 in size
Buckram
Leather, and Linen cover options available
30 spreads
Embossed cover
Vellum title page
Professional design
Three revisions
Parent Copy Album Credit: 50% of the original album for an 8×8 copy in the same layout as the couple
Leather Upgrade: $150
Additional spread (2 pages): $150
Photo cover: $125
Embossing: $90
Reprocessing: $20 per image for most requests
Restarting design process after archival (6 months): $350
The Process
Within hours of your wedding I begin backing up your images. At the start of the following week, we choose the best images for your final collection, and during that process, we pick out our most favorite 100 images, and begin processing your final set.
Those 100 images are what we use in sharing your wedding with others, your vendors, and they are also the 100 images that go to our designer for the first draft of your album. That first draft will have MORE spreads than you originally ordered. We do this as a service to you, so that you have all the options you could want to tell your story your way. You get to choose which spreads to take out, or to keep them in and upgrade your album.
We do it this way just like we took initiative to write the first draft of your formal family photographs. We have a good eye for how to tell your story. But we want you to have the final say and to love your album, so when that design comes back, your part of the process starts.
By this time, you've had a chance to see all of your images and to fall in love with the ones that matter the most to you. We want that feedback, so there are 3 revisions built in to your album design. Tell us what you want changed and we'll send a second draft, a third, and a forth if needed. There are 3 revisions built in, after that they are $100 each.
One more thing to note, is that occasionally a couple doesn't get back to us for a very long time. If we have sent you the drafts but don't have approval to move forward with your wedding, we will archive the design for later use after 6 months. If you wish to restart the design process, there is a $350 fee to have the designer and Peter pull the images back off of the server, setup your design again, and restart the process.
In the end, each of these album options are complete in themselves. There are no hidden costs. You can upgrade the number of pages, to a leather cover or add text or cameo windows. You can even upgrade the size. But if you choose to keep your album design as listed in these options, then the cost won't change.
We want you to love your album. To keep it near and look back on your wedding for years to come with something real that you can hold in your hands. If that interests you, don't wait until after your wedding to order one. Couples that say that will do it later, almost never do. Plan it into your budget and make it happen. It's so important, and we'd love to work with you.
Contact Us